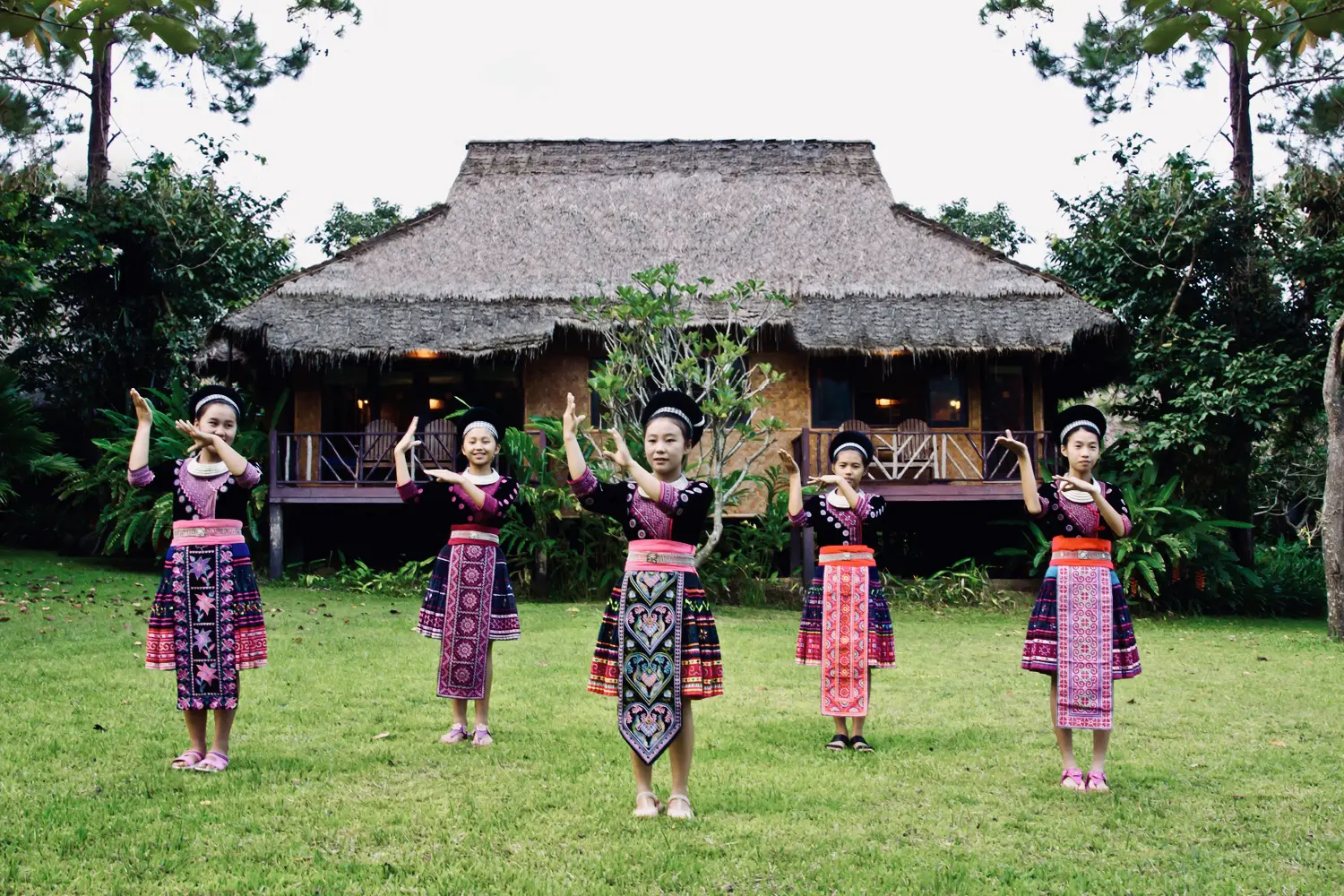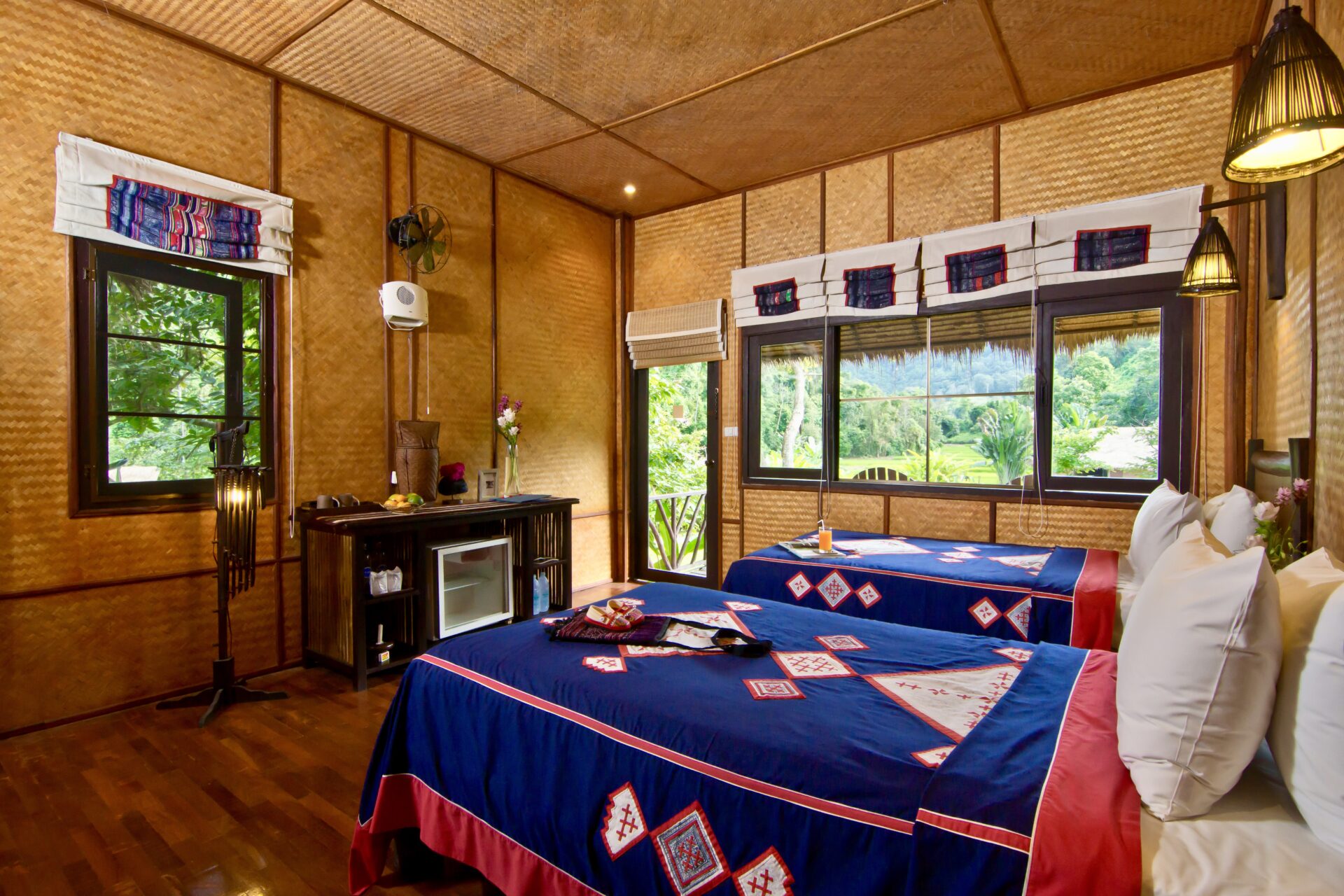 Hmong Hilltribe concept hotel in Mae Rim, Chiang Mai near Mon Jam
Cradled in a scenic valley of the Suthep-Pui mountain range, north-west of Chiangmai of northern Thailand, Hmong Hilltribe Lodge provides you a unique opportunity to experience traditional Hmong culture amidst striking natural beauty. Conveniently located in the Mae Rim district, only an hour's drive from Chiang Mai, our jungle lodge combines simplicity and style to create an environment of rustic elegance and serenity. With an elevation of 2,700 feet above mean sea level, the weather at Hmong Hilltribe Lodge is pleasantly mild and cool all year round.
FAST FACT
Hmong houses cradled in a scenic valley in Mae Rim.
Perfect location for nature and community-based tourism.
Great cultural experience with the authentic hilltribe community.
KEY FEATURES
The Hmong community lodge offers simplicity and style.
All rooms with private balcony, living area, private bathroom and a heating fan.
Dinner with Hmong performance shows
No air-con as temperature at the lodge is cool all year round.
Swimming Pool and Traditional Thai massage with the view of the rice paddy.
Hmong Tribal tours to join cultural community Hmong or hiking.
Book your hotel in Chiang Mai
Rooms & Houses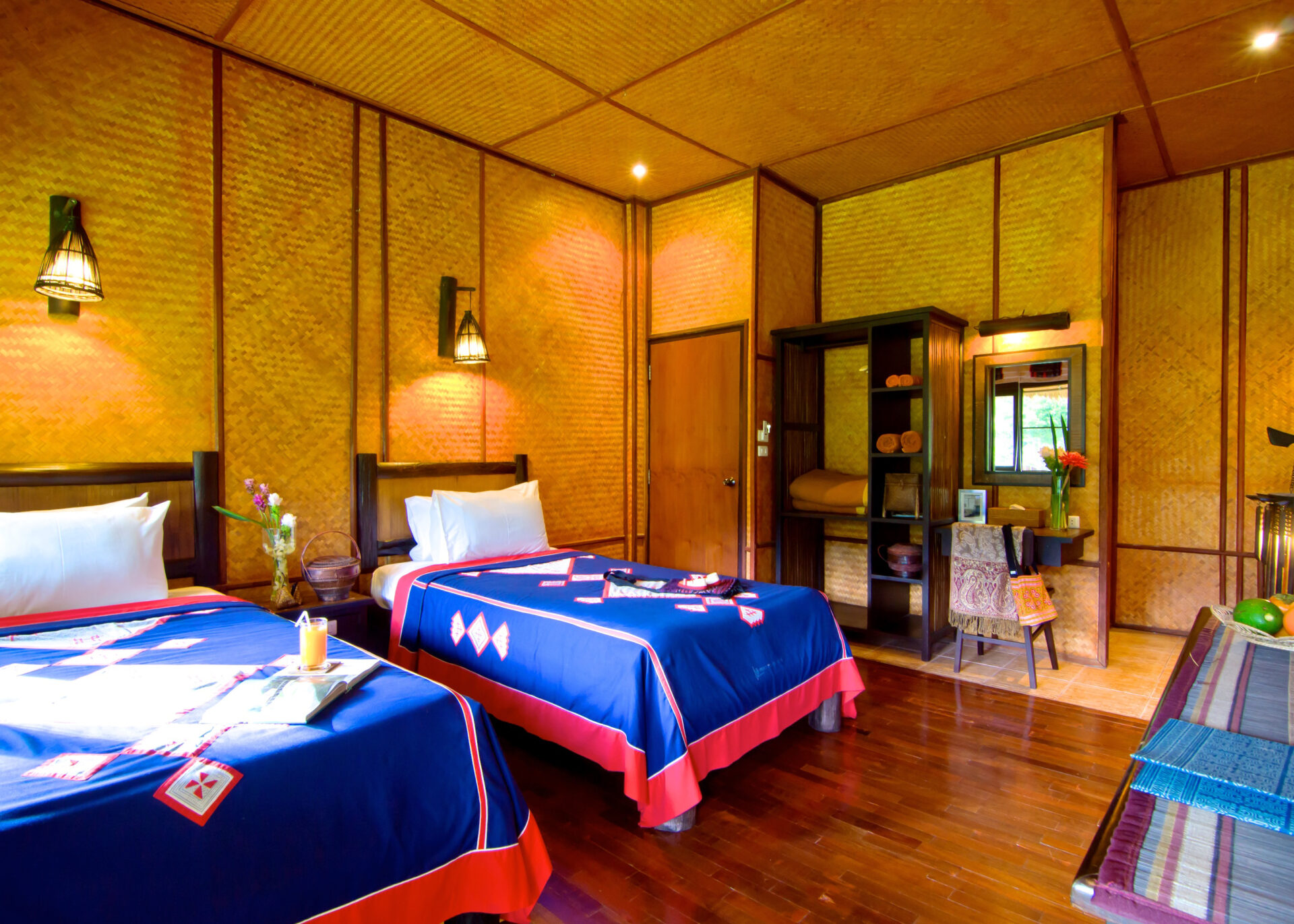 Location & Around
Hmong Hilltribe Lodge
111 Moo 4, Tambon Mae Raem, Amphur Mae Rim, Chiang Mai, 50180
---
Around
Mon Jam Chiang Mai

Queen Sirikit Botanical Garden

Doi Suthep

Wat Jedi Luang
Chiang Mai
Hotel Highlights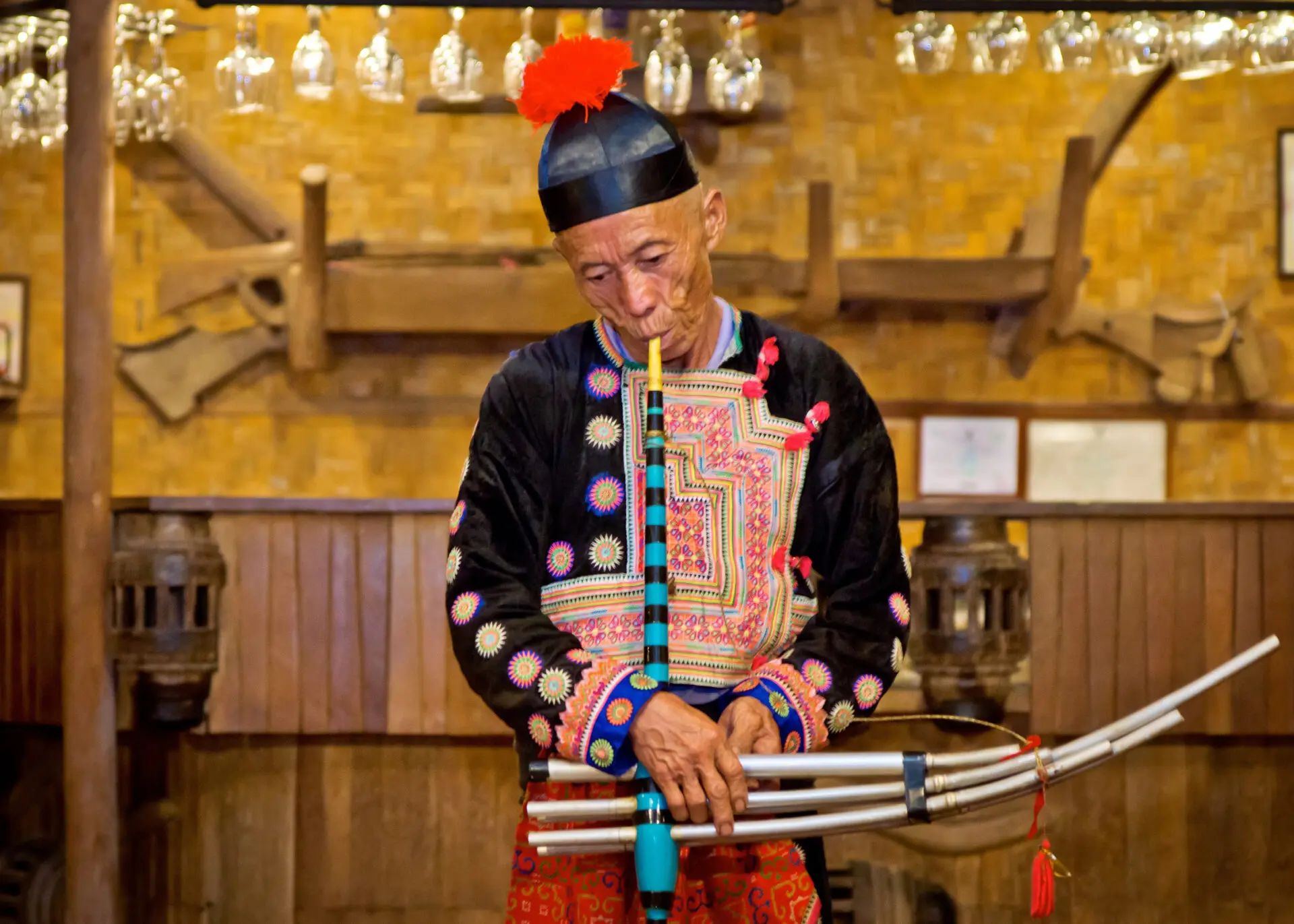 Hotel Highlight 01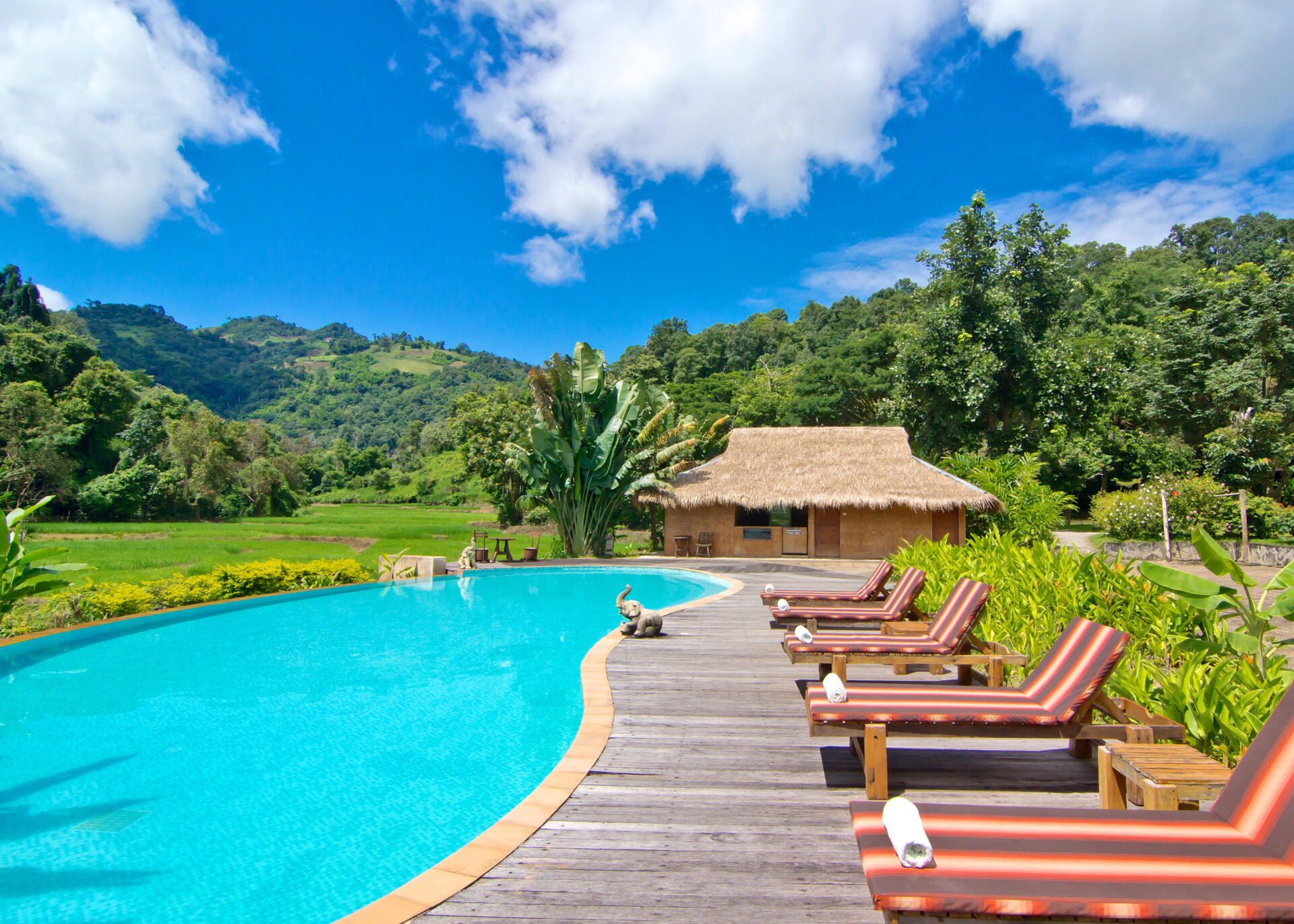 Hotel Highlight 02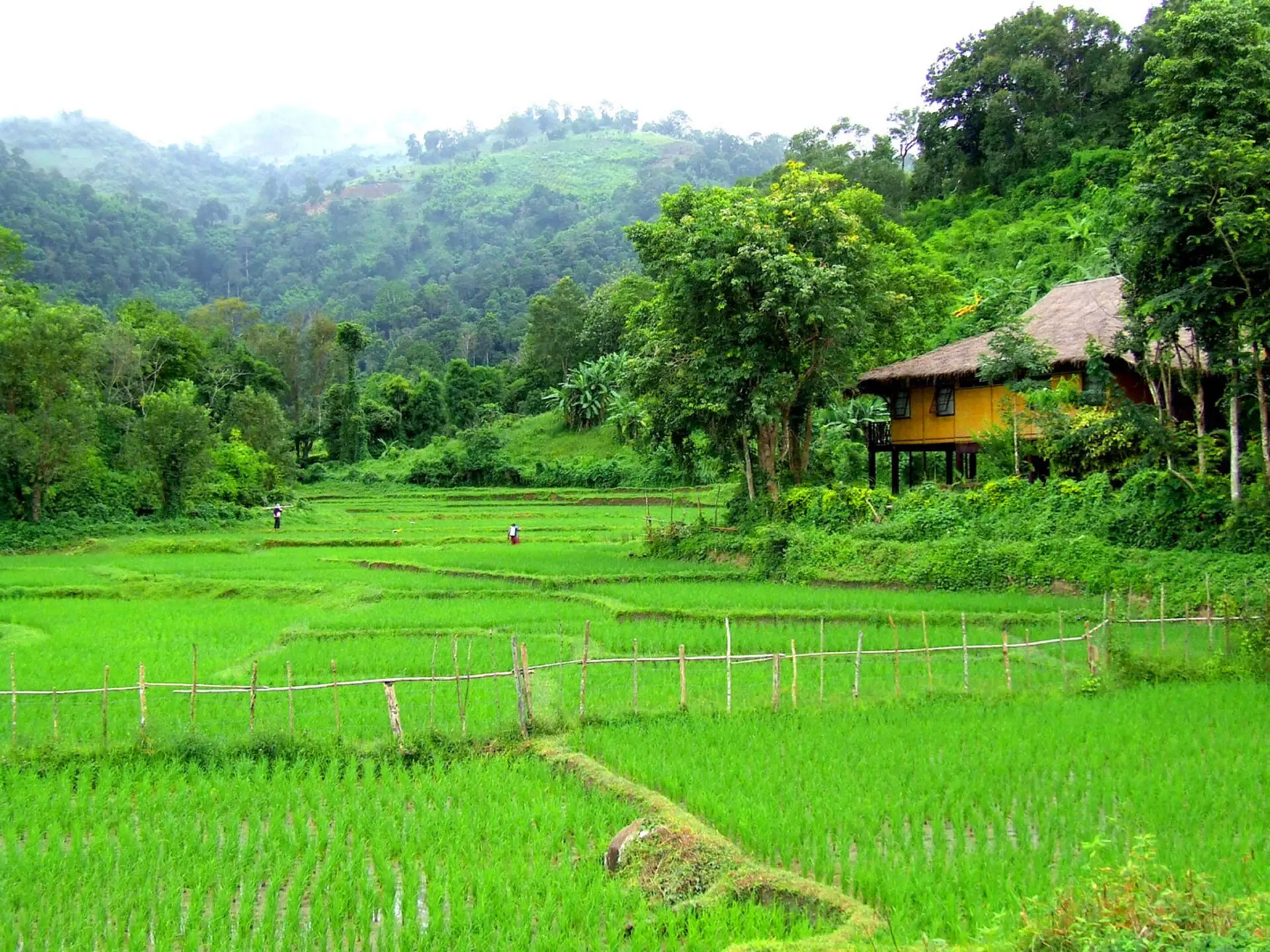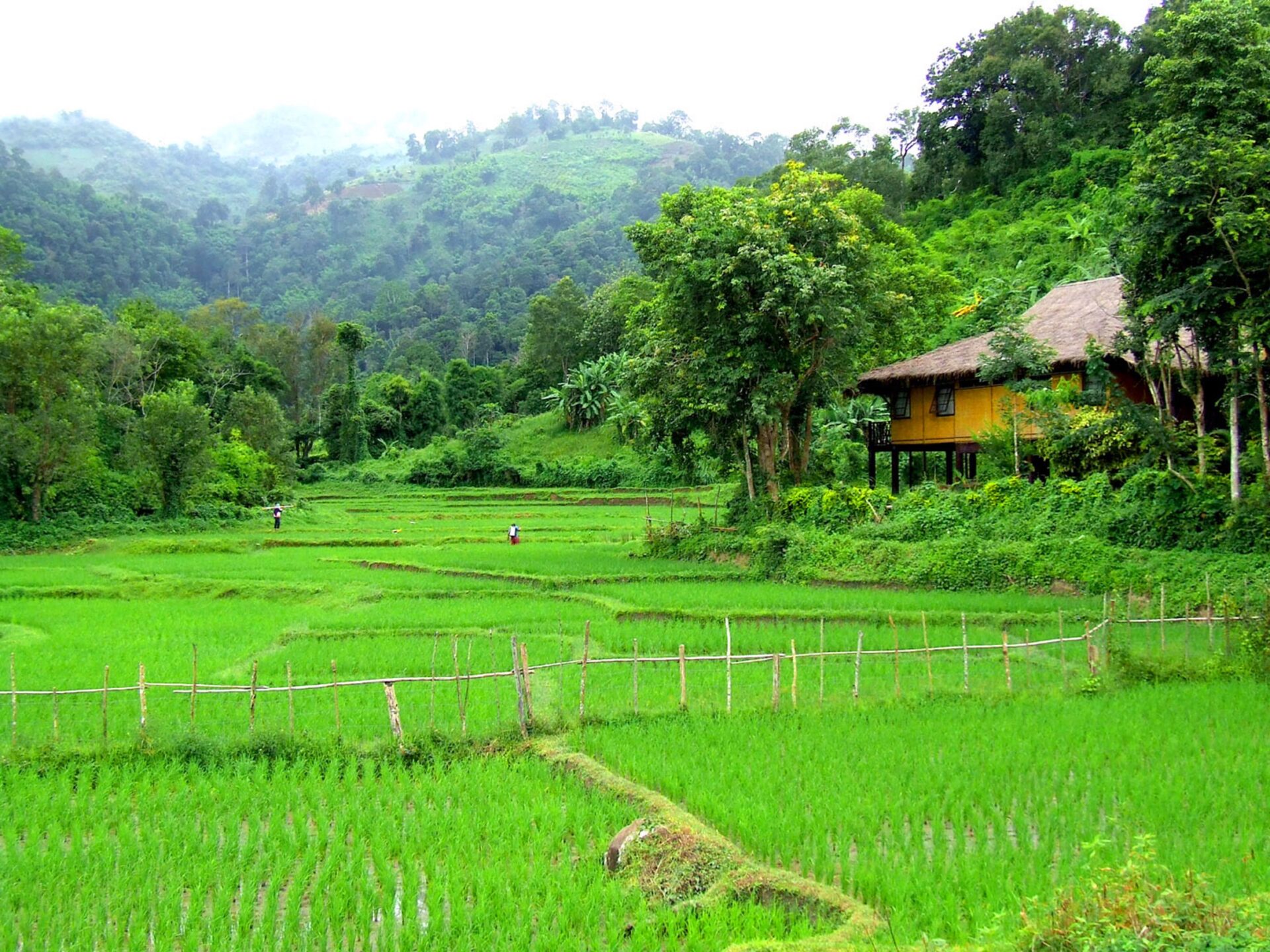 Hotel Highlight 03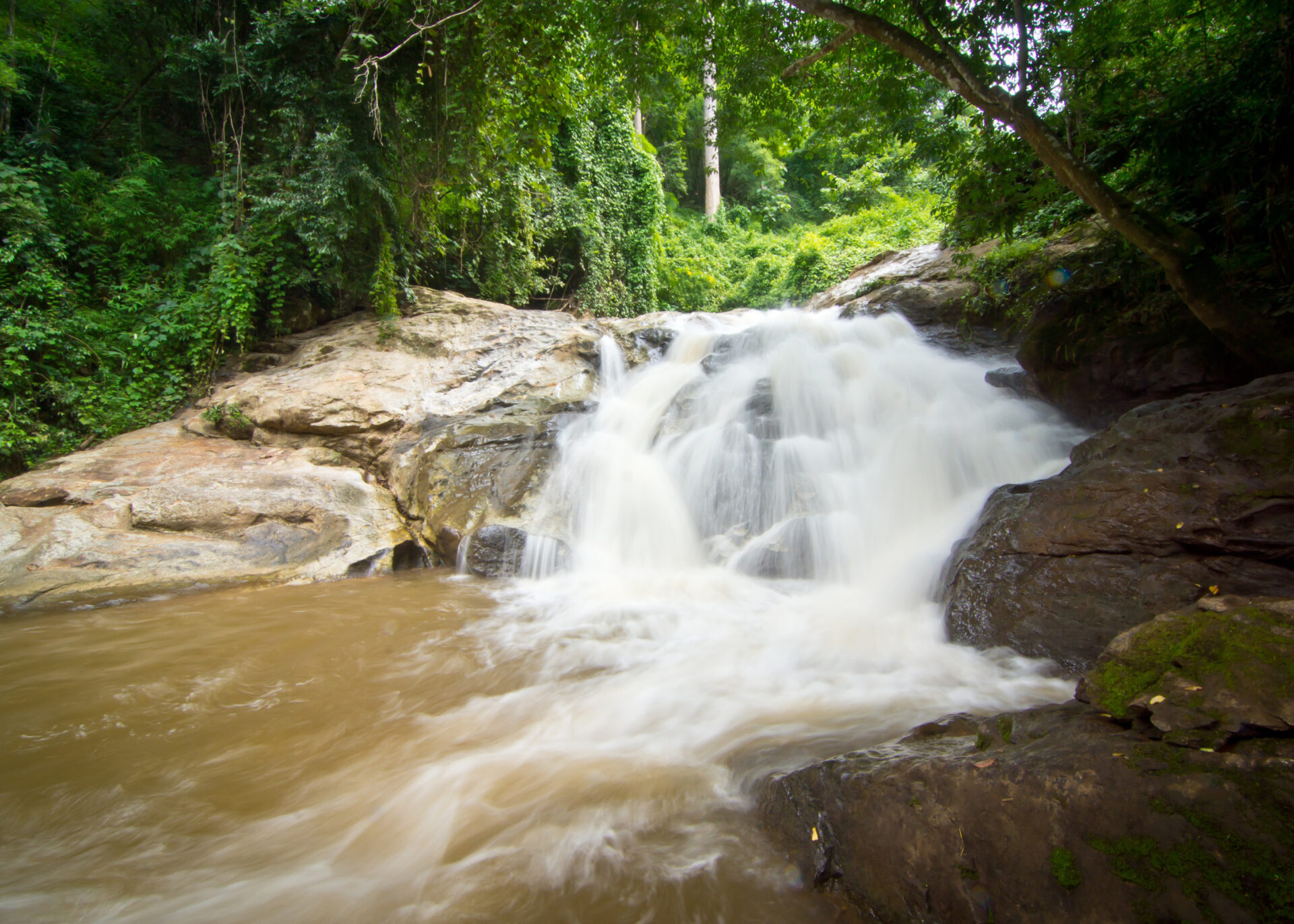 Hotel Highlight 04
Hotel Highlight 05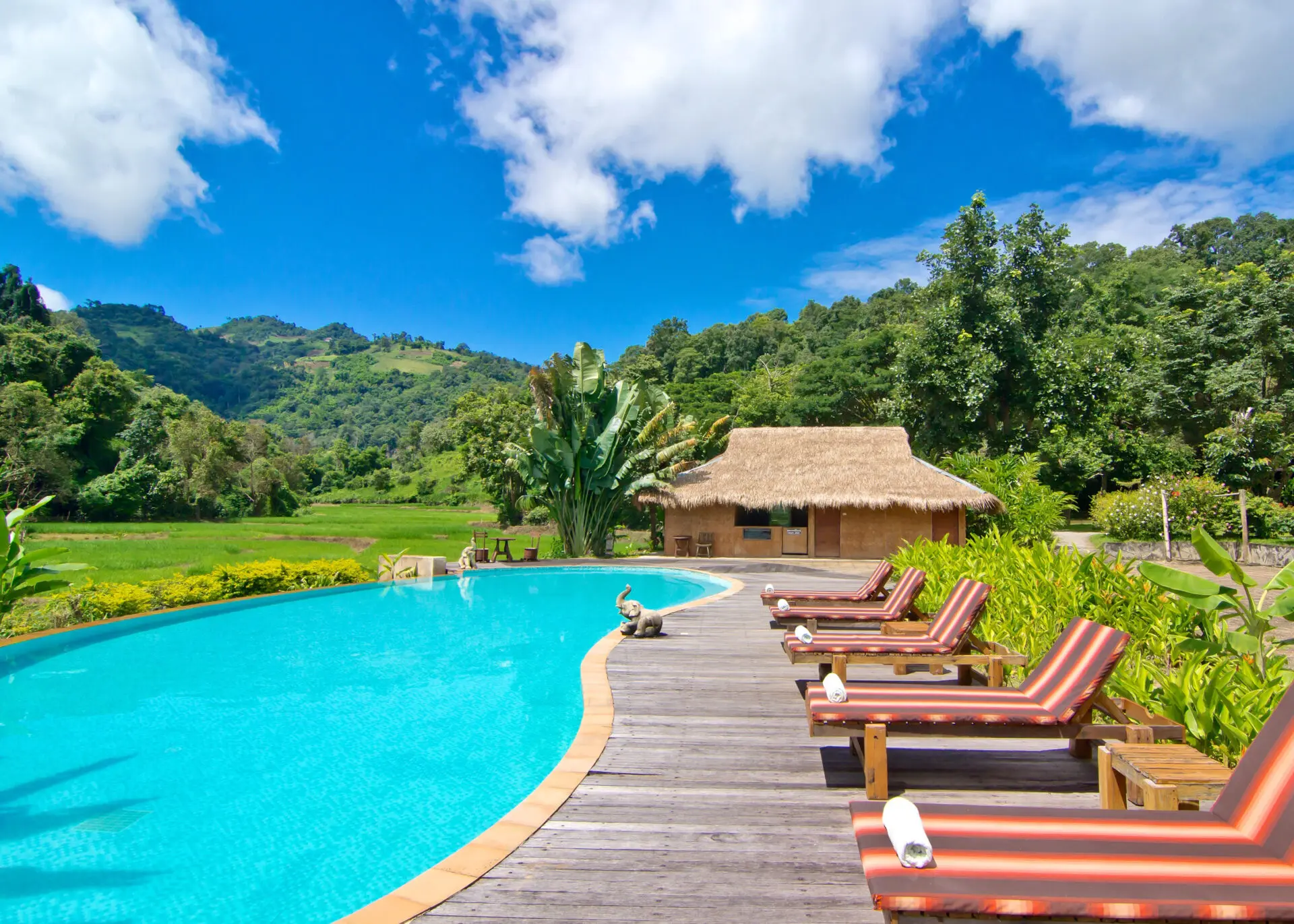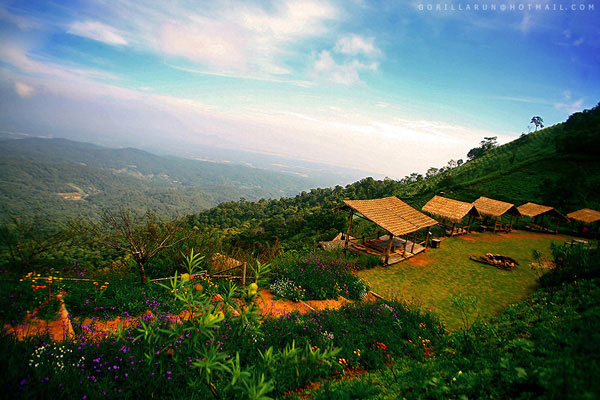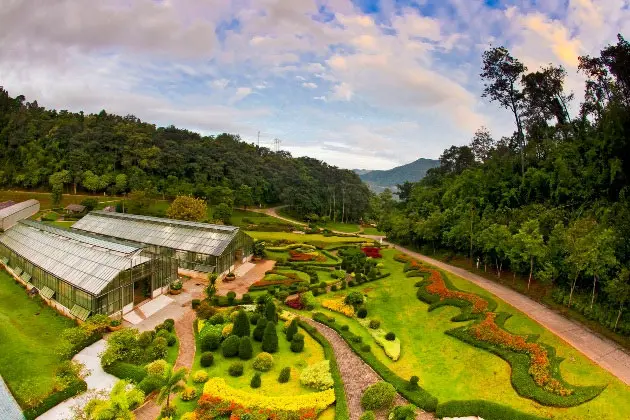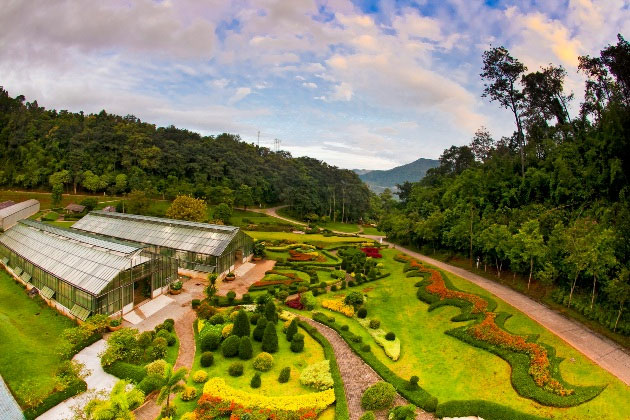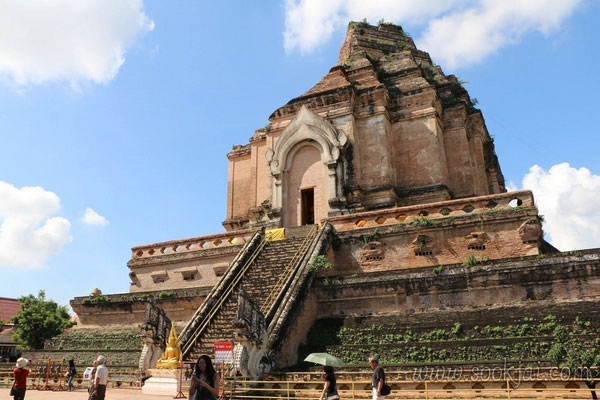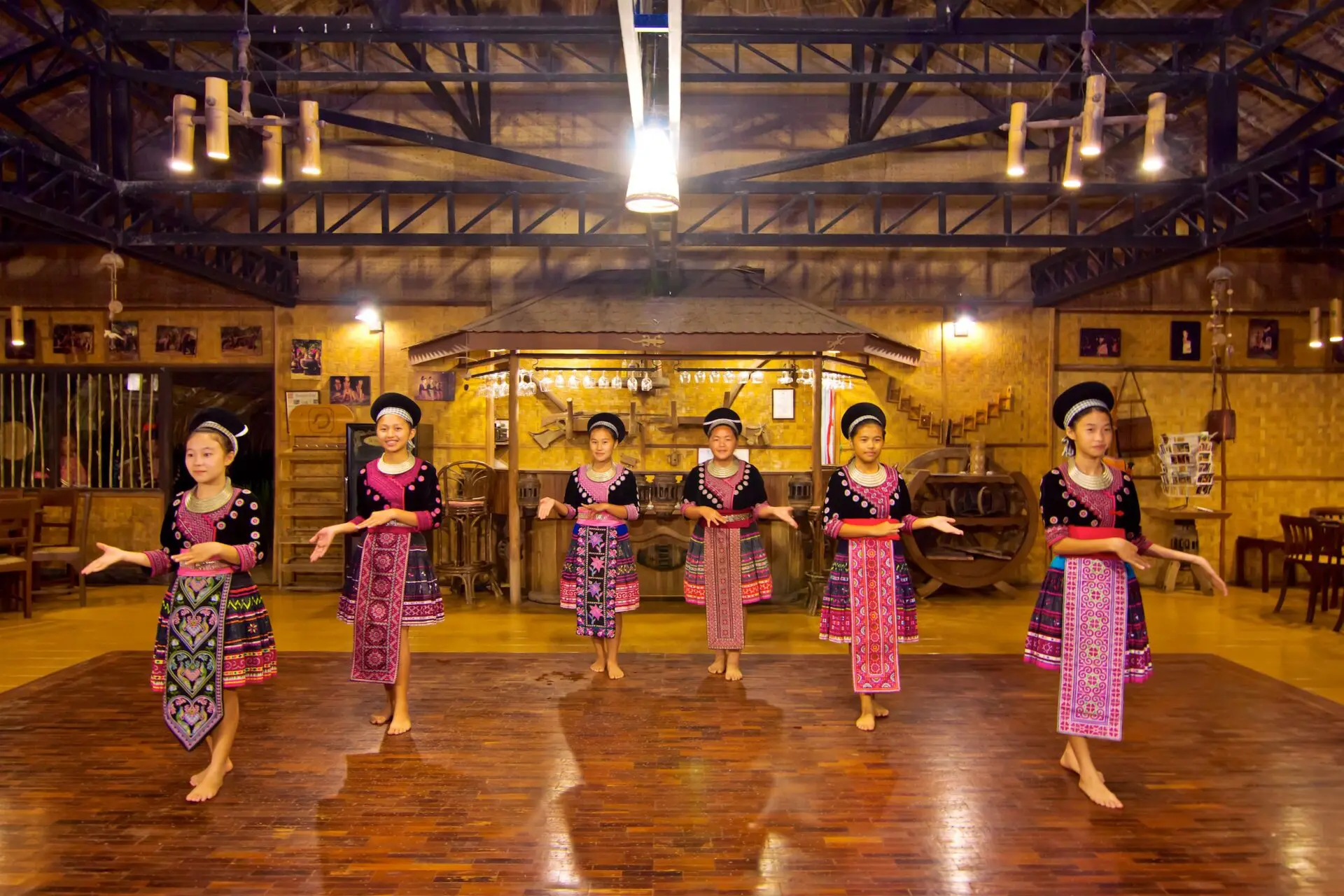 Blogs & Reviews
We have been closely monitoring the COVID-19 situation and following guidelines from the World Health Organization (WHO) and respective local health agencies where we operate. We understand there are concerns during this time and wish to assure our guests that the safety and well-being of our guests, customers and colleagues are important to us. Here…
Continue Reading →
Rated Excellent on Tripadvisor
Authentic, non-glamourous experience
The property and staff are absolutely fabulous. The staff is so nice and attentive and the property is beautiful. The rooms are nice, but no a/c and there were a lot of mosquitos. It's like really nice "glamping." There is electricity and the food was some of the best we had anywhere in Thailand. They also offer a show and interactive games which was really intersting and fun to see (it's 7 performances that took a total of ~45 minutes). We were a litte suprised about the no a/c and needing to keep the windows open for fresh air, but it actually got quite chilly afer the sun went down and the windows have great screens and doors. It's just not quite as sealed as a regular hotel room and the rooms do not have any internet (the lobby does though).
Great nature environment and incredible scenery
This hotel is on top of the mountain in the village called original Hmong tribe I leaned culture and traditional way of life and ended up to stay at this resort with big area and separate some lodges and very nice swimming pool too with great view of the rice fields and mountain, food here also delicious and friendly staffs. Recommended !
Mountain top resort
The location is wonderful, high in the jungle mountains with beautiful views. Receptionists were friendly and helpful. The chalets are large, divided into 4 rooms with a large communal area in the center. According to our guide this style of building was typical of monastery accommodation. The rooms are well fitted out, no a/c but you are very high up and in February it certainly wasn't needed. No phone or t.v. with views like this who would need either. WIFI was best at reception, very inconsiderate to put mountains in the way of the signal.
The bar b q buffet dinner was excellent, plenty to choose from and kept hot by red hot coals under the ceramic pots.
The tribal entertainment performed by mostly local youngsters was worth waiting for.
Good breakfast, essentially English style, that was possibly to cater for the mostly Europeans that were staying there. Would love to have stayed longer and would definitely go back again.
Member of SERENATA Hotels