Meetings & Events
Events & Seminarsk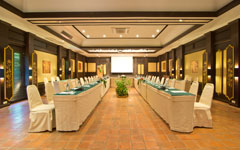 Endowed with some of the best natural scenery in the world, Thailand also has first class destinations for business events. In fact, Thailand is favoured destination for business events, seminar or incentive group because it is a favored tourist destination in general. It is an exotic blend of ancient and modern; it has stunning beaches and islands, historical sites, mountain retreats, and an amazing array of flora and fauna. The cities are cosmopolitan and the countryside is traditional. This makes Thailand is attractive for both pleasure and business.
SERENATA Hotels & Resorts Group proudly presents our first class business resorts, perfectly designed to organize and accommodate business events, seminars and incentive groups.
River Kwai Resotel
River Kwai RESOTEL is an authentic villa-styled resort nestled on the bank of the world's historic river, River Kwai, in Kanchanaburi province, Thailand. River Kwai RESOTEL is remarkably surrounded by lush tropical nature along with lofty mountains and stunning cliffs whist the legendary river runs through front-door. River Kwai RESOTEL, further, offers a wide range of activities to make your stay the most enjoyable and memorable ever. A perfect blend of serenity, comfort and adventure lies on River Kwai RESOTEL - an ideal hideaway.
Home Phutoey River Kwai
River Kwai in Kanchanaburi is a fast emerging popular nature tourist destination near Bangkok due to its famous historic River Kwai and ferfile thick green jungle like nowhere else in Thailand. Home Phutoey River Kwai Resort discovered the gem which combining outstanding cultural beauty with fertile nature and settled on this best-you-can-find piece of land by the River Kwai.
Legendha Sukhothai
Surrounded by wreck of ancient remains and only a few minutes away from Sukhothai Historical Park – a UNESCO World Heritage, The Legendha Sukhothai, located in Sukhothai province, Northern Thailand, is one of the finest resorts in Sukhothai. Exteriorly The Legendha Sukhothai is decorated as Thai traditional village-like landscape, whereas interiorly decorated as Thai contemporary design with 64 spacious rooms. The Legendha Sukhothai uniquely presents a feeling and experience of authentic Thai Sukhothai stay which you cannot find elsewhere.
The Legend Chiang Rai
The Legend Chiang Rai is the grand contemporary Thai Lanna styled resort that lies along the Mae Kok River, secluded from Chiang Rai, Northern Thailand, yet only a few minutes' drive from the city centre. The grand architecture of The Legend Chiang Rai gives the feeling of the Thailand's 7th century and, further, the property has a panoramic view of the near-by hills and mountains. The riverside at backyard is rich with large rain trees and lush vegetation. Facilities and services are at most of top hospitality service can be. All of its uniqueness brings the resort the region's "Legend" that provide you the unforgettable holiday experience.